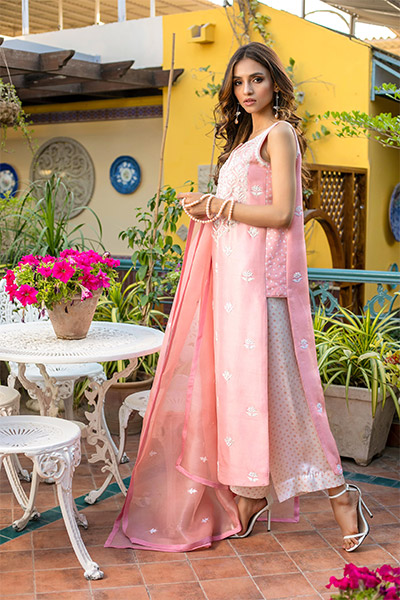 Eid 2021 is not just another Eid. It is the Eid that marks our future of festivities, somewhat after yet mostly during the pandemic. It signifies that amidst all this never-ending global chaos, life is and will go on. Hence, the celebration must also reflect it essence; and what is better than fashion to express oneself?
This year Pakistani Fashion Designers have expressed themselves through their craft and this fashion statement for the year 2021 declares; hope, desire & aspiration. We have observed vivid colors & contrasting embellishments, the paradox of light & dark, modern & classical. The silhouettes are more relaxed, breezy, & liberating, reminding us to live today in its full glory & cherish the unpredictability of these historic times.
Moreover, fusion wear has taken a backseat this Eid as tradition has take over again to make a statement for what Pakistani fashion is about & what it represents: It's culture, heritage & remarkable journey distinguished with Kora, Dabka, dexterous hand embroidery & the return of plush dupattas.
These pieces define the organic taste of eastern wear & how an adorned women in all her simplicity can light up the life around her effortlessly, only with her festive vibe she carries.
Hence, this Eid collection symbolizes the spark we must carry to keep going.
EID MUBARRAK in advance.